The Lace Museum of Castilla y León
The Museo del Encaje de Castilla y León started in order to recover the
different types of historical lace that had originated in this region and
had almost disappeared. The main goal of the Museum is to show forms of
lace that were very common in former times but had become forgotten, and to
make people aware of how important they were and still are for the
traditional culture of Castilla and Leon.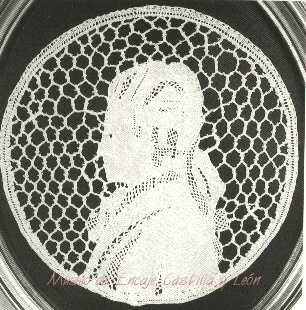 It is located in the historical centre of Tordesillas, in a 17th century
house which has been restored for the Museum.

Nowadays many people are interested in knowing and studying this collection
that results from thirty years of collecting, researching and restoring.

It is a thriving museum because often, during its didactic visits, people
become interested in many aspects of the infinite world of lace, whether it
be in its history, design or technique. In its classroom courses and
workshops are offered where anyone can learn about the history of lace,
design procedures and techniques of different European laces, with special
emphasis on the historical laces of Castilla and León: pasamanos,
needlework, bobbin lace, macramé, malla, and embroideries that in former
times were parts of items that were decorated with lace. The Museum
conserves their designs as well as some faithful reproductions of items
that had almost disappeared or even new designs that have been created.
Although the main goal is to recover and preserve the techniques of lace
from Castilla and León, the Centro Didáctico pays special attention to
other European laces, particularly those that influenced the Spanish ones.

The Museum consists of five rooms open to the public which show part of the
collection, and in which both erudite and popular laces made mainly in the
region are represented. It also includes work from other countries and
instruments for work on textiles from former times. Laces, embroideries,
clothing, liturgical pieces, ritual cloths, household items, etc. are
displayed to the public.

Several awards demonstrate the international prestige of this museum which
is often visited by people in charge of other schools and museums in other
countries, either to analyze and learn about our lace or to attend
specialized workshops. Another research tool offered by the Museum is an
extensive library specializing in textile arts and clothing.

This collection is of a private nature.
 
SCHEDULE OF VISITS

INDIVIDUAL VISITS

Tuesday to Friday: from 17:00 to 20:00

Saturday: from 12.00 to 14.00 and from 17.00 to 20.00

Sunday: from 12.00 to 14.00

Closed on Mondays.

For group visits prior booking is essential.

Visits are always guided (in Spanish) at no extra charge.

 
LIBRARY AND RESEARCH SECTION:
Restricted to researchers, and only with previous booking.